Get your FREE VIP pass today!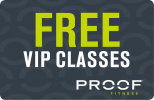 Proof Fitness in Lexington offer hot yoga classes at our downtown location.  Hot yoga, like Bikram yoga, is practiced in a heated room, usually maintained at a temperature between 100 to 105 degrees.  Unlike Bikram yoga, hot yoga isn't based on the same 26-posture series.  Instead, it is more of a flowing vinyasa style practice, similar to a dance, linking one pose to the next.  In hot yoga, the heated room helps promote sweating and warms up the body to increase flexibility with less risk for an injury.
Practicing hot yoga increases your pulse rate and metabolism, allowing your blood vessels to become more flexible and making your body burn some major calories.  In turn, this makes circulation easier and increases blood flow to the limbs.  Hot yoga is amazing for weight loss.  A person can expect to burn anywhere between 500 to 1,000 calories during a hot yoga class. Like other yogas, hot yoga will build muscle tone and improve the lymphatic system, flushing out toxins. Hot yoga relieves stress and builds inner confidence.  Hot yoga is the true definition of "mind over matter."  The endorphin rush you receive after completing a 60 to 90-minute sweat session will leave you feeling like there's nothing that you can't accomplish.
Our signature 90-minute hot yoga class at Proof Fitness is comprised of 26 to 30 postures intended to purify and cleanse the mind, body and soul.  This dynamic class is suited for beginners and experienced students alike, with an emphasis on proper alignment, breath flow and precise movement intended to increase your endurance, flexibility, strength and concentration.  One of the many benefits to hot yoga classes that is the routine is repetitive.  When you are doing the same poses repeatedly, you can begin to see real progress.
Proof Fitness has four hot yoga tips:
Stay hydrated | We recommend drinking 2 to 3 liters throughout each day. During hot yoga it's easy to become dehydrated, if you're not properly hydrated. Everyone is encouraged to drink at least 8 glasses of fluids per day in general.
Eating before yoga | It is important to avoid eating too much or too little before participating in a hot yoga class.  We encourage light snacks rather than heavy foods before hot yoga classes.
Listen to your body | Don't overexert during hot yoga classes. Hot yoga can make it easier to pull a muscle.
Check with your doctor | If you have any injuries or health concerns, such as diabetes, cardiovascular or respiratory disease or a history of heart-related illness, make sure to get approval from your doctor before practicing hot yoga.
Some of benefits of hot yoga:
Reduces stress | increases flexibility
Builds strength and endurance
Burns fat and speeds up metabolism
Increases muscle tone
Improves quality of sleep
Improves posture
Improves circulation
Reduces the risk of injury
Raises energy level
Increases balance, coordination, focus and discipline
Improves health
By the end of your first hot yoga class at Proof Fitness, you will have worked every muscle, tendon, joint, ligament, internal organ and gland while systematically moving fresh, oxygenated blood to 100% of your body.  These hot yoga postures work synergistically and cumulatively to put the body back on track and in balance.  Hot yoga builds strength, balance and flexibility by gently stretching and massaging the spine, muscles, tendons, joints and all internal organs of the body.  Lung capacity is expanded, leading to greater vitality.  Bones are strengthened.  Joints are opened and lubricated. Muscles are strengthened, toned and made more flexible.
Whether you're looking to lose weight, get stronger, heal an injury, eliminate back pain, stay active as you age or get your high blood pressure under control, hot yoga classes at Proof Fitness are perfect for you. 
230 West Main Street | 7th Floor
Our hot yoga classes will challenge you to push harder.  For more details about Proof Fitness, check out our website at www.prooffitness.com