Get your FREE VIP pass today!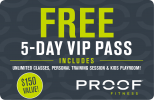 When looking for a great student gym membership, look no further than Proof Fitness, with two convenient locations, in downtown Lexington and in the Tates Creek Centre.  At Proof Fitness, we offer the highest in quality and convenience at a truly affordable price.  We don't require long-term contracts.  We believe you should work out because it's what you want to do. Affordable prices along with a friendly atmosphere and state-of-the-art equipment combine for a unique and inviting experience at Proof Fitness.  We strive to make each student gym member feel welcome and to create an atmosphere that is comfortable for our members.
Proof Fitness has a discounted membership for qualifying students, 16 to 24 years of age.  You simply must provide a copy of your student ID or class schedule.  Benefits include a full club membership at a reduced enrollment fee and lower monthly dues.  Student memberships are available on a month-to-month term.  Students have total availability of our services during full hours of operation.
Proof Fitness offers so much more than a gym filled with treadmills and free weights.  At Proof Fitness, not only will you have access to trainers and a place to work out whatever the weather, you'll also find classes with more variety, services that adapt to your lifestyle and equipment that encourages you to try new workouts.
Do what works for you at Proof Fitness.  Lift weights, spin to the sounds of music, run at your own pace or whatever you desire to do.  More importantly, enjoy working out with your friends.  Come in to either Lexington location and see why hundreds of other students have chosen Proof Fitness for their exercise program.
Student gym memberships at Proof Fitness include:
Unlimited gym access
State-of-the-art equipment
Towel service
Full-featured locker rooms with free locker access
Group fitness classes
Weight training equipment
Cardio studios with personal viewing screens
Personalized training options
Wet steam and/or dry sauna
Indoor running tracks
And much more
At Proof Fitness, we strive to provide our student members with the most challenging and effective fitness classes.  We're here to help our student members get fit, stay social and have fun, offering many different classes:
Barre
Boxing
HIIT
Indoor cycling
Pilates
Spinning
Yoga
Proof Fitness provides more fitness value, classes and amenities than traditional studios for one investment.
12 reasons why you'll benefit getting a student gym membership at Proof Fitness:
Improve health
Lose weight and get in better shape
Find support and motivation
Get stress relief
Establish a healthy routine
Increase energy levels
Be challenged and motivated
Have access to state-of-the-art equipment
Learn from our certified instructors
Personal trainers
Group classes
Make friends and learn from them
Studies show that regular exercise and an increase in strength and cardio fitness levels can help reduce the risk of health concerns and diseases, including:
Heart disease
High blood pressure
High cholesterol
Diabetes (type II)
Depression
Stress related illnesses
While getting in shape requires time and commitment, Proof Fitness offers convenient access to state-of-the-art equipment, health assessment and a variety of classes.  Come to either Proof Fitness location and get started with a student gym membership:
230 West Main Street | 7th Floor
4101 Tates Creek Centre Drive | Suite 164
For more details about Proof Fitness, check out our website at www.prooffitness.com