Get your FREE VIP pass today!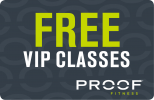 Our boxing classes are some of the most popular classes at Proof Fitness, with two convenient locations in Lexington. Our experienced coaches provide a comprehensive, customized program to push and motivate you to become healthier and more confident. We combine traditional boxing techniques with conditioning drills to develop strength and cardio. At Proof Fitness, you don't have to have any type of boxing experience to start training. Most people attend classes as a way to increase their fitness level and learn self-defense.
At Proof Fitness, we know everyone's goals are different. So, whether you're looking to compete or simply improve your physical conditioning, our coaches will try their best to help you get there. Proof Fitness boxing includes both beginner and advanced boxing classes, providing training from experienced boxing instructors.
You might think that boxing is reserved for tough, bulked-up cage fighters, but the punch-and-jab sport is also one of the most effective, comprehensive total body workouts you can choose. Whether you simply want to stay fit with a fun workout, learn the art of boxing or be a competitive fighter, Proof Fitness will help you achieve your goals.
Boxing is a high-impact, versatile sport that delivers big results in both calorie burning and strength training. The range of boxing styles at Proof fitness ensures that you can find a routine that will work for your fitness abilities and goals, especially if you're hoping to blast fat and lose weight. Our boxing classes are a tremendous way to get in shape and are unlike any class that you will find at any other Lexington fitness center. Our fitness-focused classes will increase strength and endurance while toning your entire body during a fun and energizing workout. Boxing for fitness is not only a great way to get in shape, but it can also reduce stress and anxiety as well as build confidence and character.
Unlike other martial arts, boxing does not require the flexibility needed to throw specific kicks that can also put a lot of pressure and strain on certain areas of the body such as the low back and knees. Even though boxing focuses on strikes specifically with the hands, it is still a great way to work your lower body as well. Not only does boxing demand your focus, excellence and dedication, it also transforms your entire body. You will see improvement in your stamina and endurance by the end of the first week. You will sweat like never before, be toned like never before and become more powerful with every punch you give.
Come get all of the physical benefits of a boxing workout at Proof Fitness, all while seeing the constant improvements in your skill and understanding of the sport. Benefits of our boxing program at Proof Fitness include:
Tone your body
Burn unwanted fat
Increase your stamina
Relieve stress
Increase your self-esteem
Improve your boxing skills
Proof Fitness offers results driven boxing workouts at both of our Lexington locations:
230 West Main Street | 7th Floor
4101 Tates Creek Centre Drive | Suite 164
Get in shape like never before. Boxing at Proof Fitness is the ultimate workout. Boxing sculpts your body and burns calories like nothing you've experienced before. Our full body boxing workout will change your body, clear your mind and completely engage your spirit. For more details about Proof Fitness, check out our website at prooffittransf.wpengine.com