Be Studio Proof
Our Classes
Get your FREE VIP pass today!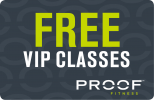 Studio Proof is an innovative and dynamic class experience that keeps your fitness routine anything, but boring. Together, we can accomplish so much more. Together, we can go beyond the goals we set for ourselves. Together, we are Studio Proof. Get a sneak peek of some of our classes below, and fill out the form to get your first class FREE!
Core Yoga
Feel energized, and challenge your concentration with extended balance poses focused on core work, balance, strength and stamina.
Tabata
Keep your heart rate pumping with this challenging cross training class that combines hi-intensity intervals of cardio and strength training.
TKO
Increase your speed, agility & strength in a classic boxing class, while burning calories all the way to the final KO Round! You'll enjoy this heart-pumping session.
HIIT the Barre
HIIT the Barre is a favorite among Proof Fitness members. HIIT (High Intensity Interval Training) holds steady among the top fitness trends.
Crush
Cardio, strength, and heart rate training. Reach your OPTIMUM heart rate and metabolic zone, and burn calories long after class is over!
Bootybarre
This fluid dance-inspired class is set to an upbeat music selection at a vigorous pace to get your heart pumping.
Fusion
A fusion of cycling, rowing and strength training in one 60 minute class blast. Fusion is one total-body workout!
Mat Pilates
A system of controlled exercises that engage the mind and condition the body, this class expands beyond the basic Pilates.
Power Yoga
Through the mindfulness of Yoga, you will change your body and your life, becoming your most POWERful self.
RIPD 360
60 minutes of muscle defining strengthening and sculpting! Perfect resistance training define your body.
Row n Tone
This session introduces challenging intervals of rowing and toning exercises, completing AMRAP. This 45 minute class will amp up your rowing!
Beatz
It's party time! Ride to the beat of the hottest songs to get your heart rate pumping, while sculpting your upper body.
Cycle45
One heart-pumping workout that consists of 45 minutes of hills, flats, sprints, jumps, tabatas and power accelerations on a stationary bike!
GET YOUR FREE
VIP PASS TODAY!