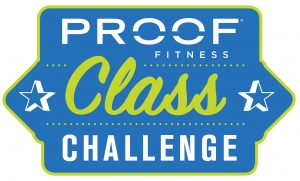 PROOF CLASS CHALLENGE
The challenge is to simply complete 5 classes by Tuesday, March 21st.
It includes all access to both locations and classes are FREE to members and non-members.
All classes support beginners (we will help you) up to advanced participants
 MEMBERS and NON-MEMBERS must REGISTER TO WIN!!
Simply fill out the form
Select any of the 5 classes listed (you will be able to change for scheduling conflicts)
A Proof Representative will contact you to get enrolled.
It's that Easy!
WINNER RECEIVES 3 MONTHS FREE WITH UNLIMITED CLASSES!
*Hurry and register – first come, first serve – space limited!
Tates Creek location:
Proof Max (Bootcamp format) -Mondays and Thursdays at 7:15pm
Classical Barre-Wednesdays at 9:45am and Mondays at 5:45pm
Proof AMP'D (Bootcamp format)-Tuesdays at 7:15pm
TRX  (Functional Body Weight Training) –Tuesday's 9:15am
West Main (Downtown location):
Mat Pilates-Tuesdays noon, Fridays 7a
CRUSH (High Intensity Interval Training) -Fridays 6:15am and Tuesdays at 6pm
Tabata (High Intensity Interval Training) -Mondays 6:30am
Warrior TKO-Tuesdays & Thursdays 6pm
Beatz60 (cycling)-Wednesdays and Fridays 9am, Mondays at 6pm
*Some restrictions apply.