Corporate Health and Wellness
Get your FREE VIP pass today!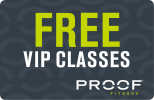 Now more than ever, businesses and other organizations are investing in their biggest asset: their employees.  Corporate health and wellness programs are playing a large role in keeping today's workforce healthy and productive.  Proof Fitness will design a corporate wellness program that fits within your current business model.
One of the best ways to get healthy and stay healthy is fitness.  When your employees are healthy, your company thrives.  Proof Fitness will work with your employees to assess their needs, develop customized plans that work for the various fitness goals identified throughout the workforce and develop a flexible training schedule that works for the needs of your business and your employees.
Corporate wellness at Proof Fitness offers businesses the opportunity to build and maintain a healthy lifestyle, strengthening both workforce and bottom line.  Integrating a total fitness program into corporate culture is a worthy investment. Here are some of the benefits to your company in offering a corporate wellness program from Proof Fitness:
It reduces absenteeism by over 38%
It boosts employee performance and morale
It assists in recruiting and retaining good talent
It decreases employee turnover and increases employee empowerment
It reduces worker's compensation and disability-related costs
It improves teamwork and internal communications
It lowers healthcare costs
It adds a highly-desirable employee benefit
It's been proven time and time again that a corporate health and wellness program will help your team get fit and feel better.  Over time, these benefits translate directly to your organization's bottom line.  When a person feels better they work better.  That means less sick time and an improvement in company morale.
Proof Fitness offers a Corporate Health and Wellness Program that provides a compelling alternative to traditional fitness-centered management practices.  Proof Fitness employs full-time health and wellness specialists at both of our locations, in downtown Lexington and in the Tates Creek Centre.  They are responsible for implementing your organization's well-being improvement program by working directly with your employees enrolled in our Corporate Health and Wellness Program.  Our members gain access to the industry's widest range of proven and impactful fitness and wellness services.
Proof Fitness's corporate wellness solutions are built on a proprietary model of managing weight, eliminating pain and increasing fitness to reduce overall health risk exposure.  We don't hand your staff a list of foods to avoid or exercises to perform and leave them to their wits.  We educate and inspire them, often working out with them, helping less motivated individuals integrate healthy habits.
When your company or organization becomes part of our Proof Fitness Corporate Health and Wellness Program, your company's employees will get the full Proof Fitness experience:
Reduced membership rates
Personal fitness program designed for each employee
Nutritional assistance
Company challenges and competitions
All-club access
Exclusive offers for spa, café and special Proof Fitness programs
Personal and group training
Private studio classes for company employees
Company team-building events
When it comes to corporate health and wellness, our state-of-the-art facilities At Proof Fitness offer a variety of equipment, classes and activities, such as cardiovascular and strength training, running tracks, group cycling and much more.
230 West Main Street | 7th Floor
4101 Tates Creek Centre Drive | Suite 164
Proof Fitness can certainly put together a premium fitness and wellness experience your employees will rave about. We will bring our talent, our resources and our facilities to the table, as we work one-on-one with your company to build a Corporate Health and Wellness program, designed to improve your employees' health and satisfaction in the workplace.
For more details about Proof Fitness, check out our website at prooffittransf.wpengine.com