Fitness Classes Lexington KY
Get your FREE VIP pass today!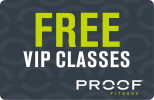 Looking to shed pounds, tone muscles or are you a seasoned athlete? Proof Fitness in Lexington is the place to help you achieve the body you desire.  Proof Fitness offers the most sought after group fitness classes in Central Kentucky, with two Lexington locations, downtown and in the Tates Creek Centre.  Proof Fitness offers everything from cardio dance to boxing, strength training to indoor cycling, led by an elite team of instructors.  Additionally, our team of exceptional personal trainers creates customized strength and functional training programs that push members to their limit to build a better body and boost confidence and positivity inside the gym and beyond.
Proof Fitness 60-minute fitness classes consist of cardiovascular and strength training intervals utilizing treadmill training, indoor rowing machines, suspension training, hand weights and floor exercises.  Our energetic instructors will take you through an intense workout that will leave you revitalized.  Our personal instructors care about your personal fitness goals and want to see you succeed.  Whether your goal is fitness-based and you want to increase your endurance, to build your power or strength, or if you have a weight loss-based goal and would like to lose weight and tone up, Proof Fitness is the perfect place in which to achieve your goals.
Proof Fitness offers a large selection of cardiovascular machines, group fitness classes, specialized classes, strength training equipment and personal training programs:
Cardiovascular machines
Group fitness classes
Hi-Tech cardio
Specialized classes
Strength training
Functional training
Free weights
Personal training
Sports performing training
Small group training
Locker rooms
Designed to make you feel successful and challenged, our fitness classes at Proof Fitness are just what the doctor ordered.  They are truly your best medicine and guaranteed to help you change for the better.  Check out our group fitness classes and discover the best class times that will compliment your daily routine.
All of our group fitness classes at Proof Fitness provide individualized attention to every participant.  Instead of a pre-set, pre-planned class, our instructors have the liberty to create a brand new, completely customized workout just for a specific group of clients.
At Proof Fitness, we strive to provide our members with the most challenging and effective fitness classes.  We're here to help our members get fit, stay social and have fun, offering many different classes:
Barre
Boxing
HIIT
Indoor cycling
Pilates
Spinning
Yoga
Proof Fitness provides more fitness value, classes and amenities than traditional studios for one investment.
Proof Fitness offers something for everyone and our class curriculums are designed to build strength, fitness and your mojo.  We offer beginner through competition levels in all our fitness classes so you can choose to attend classes just for fun or train for a competitive level.  Our fitness classes at Proof Fitness are not your typical mundane workout routines:
Tone and tighten muscles
Build core and upper body strength
Increase your cardiovascular endurance
Challenge and build confidence
Group classes or private lessons available
Proof Fitness is proud to be serving Lexington and Central Kentucky with two convenient locations:
230 West Main Street | 7th Floor
4101 Tates Creek Centre Drive | Suite 164
For more details about Proof Fitness, check out our website at prooffittransf.wpengine.com