Get your FREE VIP pass today!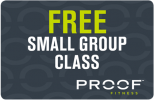 Take your workouts and fitness to the next level with group fitness classes at Proof Fitness that push you beyond what you're accustomed.   Group fitness classes at Proof Fitness will help you build lean muscle, improve your cardiovascular system and create new friendships with people who are as serious as you are about getting fit.  There's something to be said for working out in a group setting.  There's always more energy, more competitiveness and more fun.  You'll find the motivation, support and encouragement you're looking for in our group fitness classes at Proof Fitness at either our downtown Lexington location or at our Tates Creek Centre location.
At Proof Fitness, each member in our group fitness classes works out at their own pace within the group.  We split members up to work with partners in small training groups and then workout with the entire class at times.  Our certified expert instructors maintain the pulse of the workout, keeping it fun and challenging while making modifications for individuals that makes the training more personalized.
Each component of the Proof Fitness group fitness sessions is designed to focus on speed, agility, power, strength and endurance.  Many of the exercises rely on body weight, but we also utilize equipment such as dumbbells, resistance bands and agility ladders.  There is minimal overlap in training different muscle groups, allowing for a highly efficient approach to achieving balanced, total body fitness.
Proof Fitness workouts promise measurable, real results.  Through heart rate- monitored training you will work in the proper heart rate zone to guarantee the after burn effect.  Coached workouts consist of cardio, strength training, suspension training and core training to keep each workout fresh, translating into lasting results.  No matter where you are in your workout journey, Proof Fitness can progress and regress exercises to meet your needs, giving our members an appropriate challenge. Group fitness members at Proof Fitness say our environment is warm and welcoming with a happy and energetic team that is prepared to support their fitness, performance and wellness endeavors.
Proof Fitness is more than a workout facility.  Proof Fitness is a support system where our group fitness members can transform into the strongest version of themselves.  Proof Fitness empowers our members to reach their highest goals.  Our members strive to be better than the people they were previously.  Our group fitness members are dedicated to discipline and addicted to transformation.
Benefits of group fitness training at Proof Fitness are as follow:
Classes designed for all fitness levels from beginners to athletes
Coaching and instruction by highly qualified, experienced instructors
60 minutes of heart-pumping, calorie-burning, strength-building activity
Improved balance, coordination, cardiovascular endurance, core stability and strength
Wide variety of fun, challenging workouts in a motivating group environment
Workouts designed with proven methodology and proper techniques
Proof Fitness offers a large selection of cardiovascular machines, group fitness classes, specialized classes, strength training equipment and personal training programs:
Barre
Cardiovascular machines
Group fitness classes
CrossFit® classes
Hi-Tech cardio
Specialized classes
Strength training
Functional training
Free weights
Personal training
Sports performing training
Small group training
There's a group fitness class for everyone at Proof Fitness.  Come find the fitness program that's just right for you.  Inspire your mind and transform your body with moving group fitness classes and workouts taught by certified instructors devoted to making it the very best hour of the day.  Our group fitness classes offer community, energy and motivation to create a transformative experience, while delivering great fitness results.
Proof Fitness has two convenient fitness gyms in Lexington, Kentucky:
230 West Main Street | 7th Floor
4101 Tates Creek Centre Drive | Suite 164
Our group fitness classes will challenge you to move smarter, push harder and show up inspired day after day.  For more details about Proof Fitness, check out our website at prooffittransf.wpengine.com