Get your FREE VIP pass today!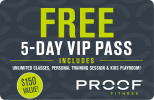 When searching for the right health club for you, our goal at Proof Fitness is to help you reach your maximum wellness potential.  At Proof Fitness we believe in balance: overall wellness, strong workouts, purposeful nutrition, a sense of community and a place where you can achieve peace of mind.  Personal training is all about you: where you are and where you'd like to be.  Our experienced, certified trainers at Proof Fitness customize programs that help our members reach their goals.  Just as you would be particular about hiring any professional, hiring a trainer is no different.  Proof Fitness has the most rigorous hiring standards of any health club or gym in the greater Lexington area.
Both Proof Fitness health clubs are conveniently located:
230 West Main Street | 7th Floor
4101 Tates Creek Centre Drive | Suite 164
Our health clubs are tailored just for you with state-of-the-art fitness equipment for every workout level.  At Proof Fitness, we are constantly working to provide spotless facilities and welcoming spaces so that our members can get in and go for it.  Through 1-on-1 personalized training, our Proof Fitness certified personal trainers craft customized plans to help our members reach their goals and keep them motivated.  The personal training we offer at Proof Fitness is performance-based, functional movement.  We specialize in athletic development and sports conditioning training for athletes as well as functional fitness for older adults to improve mobility, regain strength and prevent and/or reverse physical decline.  At both Proof Fitness health clubs, your fitness goals are just as important to us as they are to you.
Both Proof Fitness locations are world-class fitness facilities, offering the largest selection of on-trend workout programs and classes under each roof, constantly innovating to suit the changing lifestyles of our members.  Our specialty studios are designed to offer expert-level workouts for less than the price of a single studio elsewhere.  The secret to living a fit life is finding workouts you love and building a mixture to meet your needs.  You might want to combine yoga and cross-training or barre and cycling.  You might want expert-level high-interval training or a once-a-week weights session.  The choices are all yours at Proof Fitness.
Here are 10 compelling reasons why joining Proof Fitness health club will get you to your goals faster:
Motivation | Exercising at home is fraught with distraction.
Commitment | Paying for it is a great incentive to utilize the service.
Expertise | Certified trainers can guide you every step of the way.
Group Classes | People in groups reach goals more often than those who aren't in group classes.
Equipment | There's a range of state-of-the-art equipment at Proof Fitness.
Facilities | World class facilities for every exercise desired.
Stress Relief | Training at Proof Fitness is a great stress releaser.
Personal Trainers | Hire a trainer at a reasonable rate.
Other Health Club Members | Form new friendships as part of your experience.
Cost | Proof Fitness is a very good investment for your personal fitness goals.
When selecting Proof Fitness as your health club, you need to weigh the following factors:
Your level of experience
Your lifestyle
Your goals
Important factors why you'll choose Proof Fitness as your health club:
Convenient locations
Highly qualified staffs
Certified personal trainers
Wide range of individual and group exercises
State-of-the-art equipment
Facilities second to none
Year-round access
Clean locker rooms
Childcare available
Both Proof Fitness health clubs are truly impressive facilities.  From location to amenities, Proof Fitness is the ideal place for you.  We provide an unmatched array of perks to our members that you won't find anywhere else.  Come see for yourself at Proof Fitness, downtown Lexington or in the Tates Creek Centre.  For more details,  check out our website at prooffittransf.wpengine.com