Get your FREE VIP pass today!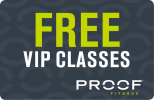 HIIT (High Intensity Interval Training) is an effective exercise training format.  Proof Fitness offers HIIT classes at both Lexington locations.  According to a survey conducted by The American College of Sports Medicine, HIIT holds steady among the top fitness trends for 2017.
You should take HIIT classes if you are looking for a high intensity challenge.  HIIT classes at Proof Fitness will work your entire body from head to toe.  HIIT is a system of organizing cardiorespiratory training which calls for repeated bouts of short duration, high-intensity exercise intervals intermingled with periods of lower intensity intervals of active recovery. This type of training gets and keeps your heart rate up and burns more fat in less time.  People lose weight faster, increase cardio endurance and increase strength more quickly than a traditional workout class.  By changing heart rate zones multiple times during your workout your body is always adapting and has to work harder.  The results for HIIT workouts are superior to other types of exercise.
HIIT is a full body, fat burning, cross training class at Proof Fitness with variety: TRX, kettlebells, medicine balls, jump ropes, rowing and more.  No matter the equipment, HIIT classes are designed to torch calories, build muscles and keep your metabolism revved up long after class is finished.  Proof Fitness incorporates agilities for strengthening and conditioning.  Every workout is tied to performance and results are recorded.  HIIT is a unique style of fitness designed to your athletic ability.  Everyone can benefit from this style of fitness.  You will constantly challenge your body and avoid plateauing with this flexible, ever-changing program.
Our certified personal trainers and group exercise instructors at Proof Fitness will lead you in the HIIT training classes that we offer throughout the week.  These classes are a sure-fire favorite among club members at Proof Fitness.  HIIT workouts provide similar benefits as continuous endurance workouts, but in shorter periods of time.  This is because HIIT workouts tend to burn more calories than traditional workouts, especially after the workout.
HIIT training has been shown to improve:
Aerobic and anaerobic fitness
Blood pressure
Cardiovascular health
Insulin sensitivity
Cholesterol profiles
Abdominal fat and body weight while maintaining muscle mass
Here are great reasons for HIIT classes at Proof Fitness:
Helps build endurance | HIIT training adapts to the cellular structure of muscles which enables you to increase your endurance while doing any type of exercise
Burns calories and fat in a shorter period of time | HIIT is great if you have a limited amount of time to work out.
Effective energy use | HIIT uses a system of work-hard-then-recovery intervals, alternating between high intensity workouts with short resting periods.
Boosts metabolism | Increased metabolism helps burn more calories at a faster rate.
Burn calories and fat hours after you leave the gym | In 24 hours after a HIIT workout your body is still burning calories.
Lose fat and not muscle | HIIT workouts effectively allow dieters to preserve their muscle gain while shedding weight.
Choose your own workouts | With high intensity interval training, you don't have to limit yourself to just running or cycling.
Good for heart health | HIIT training helps keep a healthy heart and helps build blood flow effectively throughout your whole body.
Challenging | HIIT workouts offer seasoned members a new challenge and beginners a quicker way to see results.
The results for HIIT workouts are superior to other types of exercise.  See for yourself at either Proof Fitness location:
230 West Main Street | 7th Floor
4101 Tates Creek Centre Drive | Suite 164
Our HIIT classes will challenge you to move smarter and push harder.  For more details about Proof Fitness, check out our website at prooffittransf.wpengine.com