Get your FREE VIP pass today!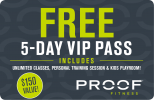 When comparing Lexington gyms, you should know that both locations of Proof Fitness are world-class fitness centers.  Proof Fitness offers the largest selection of on-trend workout programs and classes, constantly innovated to suit changing lifestyles.  All gyms have equipment and tools to help you get more fit, but there's more than equipment that makes the difference between reaching your fitness goals and failing.  A real difference is in the support, advice and coaching that you receive along the way.  That's what we strive to provide you at Proof Fitness.  Our mission is to change lives with our results-driven culture.  Our goal is to encourage, motivate and drive our members to success.
Proof Fitness offers a range of cardio equipment:
Elliptical
Rowing machines
Spin bikes
Treadmills
And more
Proof Fitness offers a range of strength training machines:
Hammer strength
Precor
And more
For gym-goers looking for motivation and community, Proof Fitness provides group fitness classes:
Barre
Boxing
HIIT
Indoor cycling
Pilates
Spinning
Yoga
Proof Fitness provides more fitness value, classes and amenities than traditional studios for one investment.
Proof Fitness offers a large selection of cardiovascular machines, group fitness classes, specialized classes, strength training equipment and personal training programs:
Cardiovascular machines
Group fitness classes
CrossFit® classes
Hi-Tech cardio
Specialized classes
Strength training
Functional training
Free weights
Personal training
Sports performing training
Small group training
Locker rooms
Both locations of Proof Fitness are results-driven facilities.  Our goal is to do more for our members.  We want to not only help every member reach their fitness goals, but also improve their quality of life.  Proof Fitness feels strongly about fitness and how it can affect your life and we help our members achieve their goals.  Locally owned and operated, Proof Fitness has two Lexington locations, downtown and in the Tates Creek Centre.  Our premier facilities, innovative group classes and unique training programs will inspire you.  From seasoned athletes to those people new to exercise, everyone will find exciting and affordable training options at Proof Fitness.
Features and amenities of Proof Fitness are:
Nice locker rooms with widescreen televisions throughout our facilities
Private lockers
Towel service with a full range of toiletry and grooming items
Steam room and sauna
Complimentary individualized fitness assessment
A blend of classic and innovative group exercise classes
The top instructors in Lexington
Childcare available
Proof Fitness provides personal training, group training and small group training.  We believe that we have the best fitness centers in the greater Lexington area with the most attentive and knowledgeable staffs, the most cutting edge personal training methods and clean and comfortable physical facilities.  You won't find more qualified or more highly trained fitness training teams anywhere.  Our sole focus is not on membership numbers, but on members' results.
Proof Fitness is built around a functional fitness training philosophy, combing dynamic exercises and core stability training, which improve strength and performance in the activities of everyday living.  We design programs that are built on training phases and progressions, giving our members a road map to achieving their goals.  The focus at Proof Fitness is to deliver extraordinary service that is beyond expectations.  You provide the hard work and dedication while we guide and educate you through your training program.  We provide personal fitness training for beginners, fitness enthusiasts and athletes.
Let Proof Fitness customize a program that will help you reach your goals at either of our two Lexington gyms:
230 West Main Street | 7th Floor
4101 Tates Creek Centre Drive | Suite 164
For more details about Proof Fitness, check out our website at prooffittransf.wpengine.com