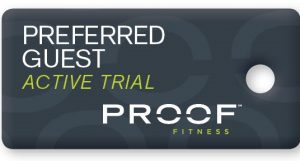 For the month of August, you are eligible to reserve up to two "Preferred Guest" key tags for your friends!!  Once your friend experiences how great Proof Fitness is and becomes a member, you receive one of the following rewards:
Free Personal Training Session
Free Unlimited classes for 1 month
Free month of membership dues
Free Facial
Free Massage
Free Wax
Your Preferred Guest will also receive each of these VIP benefits:
All access to both Proof locations for 2 weeks
Unlimited classes
Complimentary Personal Training Session
It's that simple! Complete the form and we will set up their access.
*some restrictions apply