Spin Classes Lexington KY
Get your FREE VIP pass today!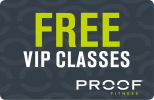 When looking for spin classes in Lexington, Kentucky, come to either Proof Fitness location, in downtown Lexington or in the Tates Creek Centre.  A spin class is a high intensity cycling workout that takes place on a stationary machine with a heavy, weighted flywheel that is linked to the pedals.  The result is a fixed gear bike, like a track bike.  Your legs are constantly moving and you have to apply pressure to slow them down.  You can't simply stop pedaling and that means that every second of the available time is put to good use.  Spin classes at Proof Fitness last 60 minutes.
Spin classes provide 60 minutes of high intensity interval training (HIIT).  Participants in spin classes can expect to burn anywhere between 500 and 700 calories in an hour.  The great thing about spin classes is that they allow riders of all abilities to push themselves as much as they like, in the same place.  So, an established athlete can train alongside a complete novice without either placing any impact on the other's training.  Spin bikes at Proof Fitness have resistance dials.  So, a stronger cyclist can turn their dial right up to the max, while a beginner may want to be a bit more restrained.  No one gets dropped and no one gets frustrated.
Spin classes are more intense than riding a stationary bike.  The intensity will vary throughout the class thanks to different body positions (i.e., standing versus sitting), pedal speed and resistance.  The Proof Fitness instructor will tell participants when to change their settings so their ride feels like it would outdoors, complete with hill climbs, sprints and coasting.  In some spin classes, the pedaling is mixed with upper-body workouts, resistant bands or a themed adventure.
Though you'll get an amazing workout with a spin class, many people participate just for the atmosphere.  There's a strong sense of camaraderie between riders as they sweat in a dimly lit studio that pumps heart-pounding music.  There's nothing like finishing a class feeling exhausted, accomplished and part of a team.
Seven things to know before your first spin class at Proof Fitness: 
Wear clothes that maximize your abilities on the bike.
Spin shoes are recommended, but not required.
Bike setup and form are keys to a great ride.
There are three speeds on the bike that you'll use every class.
You should expect a vigorous workout.
You can always go at your own pace.
Spinning is less intimidating than you may think.
Eight great benefits of spin classes at Proof Fitness are:
Burn calories as you enjoy the ride
Improve your cardio for a healthy heart
Set your own pace
Join a community that feels like a team
Lower your body's workout breaking point
Build lean muscle
Strengthen your core
Enhance your mental strength
Your spin classes in Lexington, Kentucky at Proof Fitness will require your strength, your determination, an open mind and a case of good old-fashioned humility.  Proof Fitness spin classes can assist you in striving for your goals through safe, efficient, smart training that is both exciting and challenging.  Spinning is an awesome indoor cycling class that provides all the terrain you need: hills, climbs, flats and much more.  Set to "rockin" music, you are sure to break a sweat as you cross the finish line with the team.  Visit either of our convenient locations and get signed up for spin classes that will be perfect for you:
230 West Main Street | 7th Floor
4101 Tates Creek Centre Drive | Suite 164
For more details about Proof Fitness, check out our website at prooffittransf.wpengine.com