Exercise Classes Lexington KY
Get your FREE VIP pass today!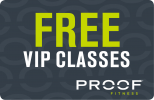 Our schedule at Proof Fitness is full of exercise classes that will fit your schedule and your level of fitness.  Proof Fitness has two convenient locations, in downtown Lexington and in the Tates Creek Centre. Our weight loss challenges will teach you how to eat right and hold you accountable to your exercise schedule.  Our group instructors will increase your strength with the guidance of a certified coach.
Whether you're an exercise class veteran or you're working up the courage to try a class for the first time, you will feel welcome at Proof Fitness. Our friendly, approachable structure is central to each class because we're here to be your closest ally on your journey to complete fitness. We have exercise classes to suit every personality.
If you are not sure exercise classes are for you, Proof Fitness has four reasons why you should give them a try:
You'll be more likely to show up and keep showing up. If you miss a class, your instructor and peers will notice.
You'll use the correct form because an instructor will be there to ensure you're exercising correctly.  You will get the most benefits from each movement and avoid injuries.
You'll reach levels you couldn't reach on your own. With an instructor to push you and peers to encourage you, you'll achieve fitness you didn't think possible.
You'll have fun! Consistently fit people find exercise that they enjoy and they keep doing it. Our exercise classes are your opportunity to discoverjust what you love about fitness.
Our group instructors at Proof Fitness are fully qualified to help you meet your fitness goals.  From the person looking to start a workout routine for the first time to a marathon runner or bodybuilder, we have an instructor for you.  Proof Fitness offers a wide array of classes including cardio, cycling, boxing, yoga, Pilates and much more.  Most classes are free with membership.
Your workout should always be the high point of your day.  Proof Fitness is designed to excite and motivate with amazing exercise classes, innovative training programs and ample workout space to help you get into your zone and get moving. We see Proof Fitness as your ultimate daily retreat, where motivation and comradery are simply part of your gym membership.
Proof Fitness is much more than a gym.  In addition to our beautifully designed open gyms, there are many member benefits that set Proof Fitness apart from other gyms:
Most innovative equipment available on the market
Advanced technology with trend analysis
Anthropometric and biomedical feedback
360 degree fitness program design
Certified trainers and instructors with over 100 years of experience
Integrated spa with hydration and massage therapy
Some of the many amenities at Proof Fitness include:
Towel service
Hot showers
Grooming products
Wi-Fi
Changing rooms and lockers
Clean restrooms
Whether you're a seasoned athlete, have made recent resolutions or anything in between, our group instructors at Proof Fitness have advanced specialties beyond their certifications and degrees to help you lose weight, run faster, sprint better, get back in shape or help you in changing your lifestyle.  Proof Fitness, with two convenient Lexington locations, offers the most skilled instructors, the best equipment and group classes and the finest services and amenities in the Lexington market.
If you've ever grown bored of your exercise routine, you've probably found yourself looking for options to keep it fresh.  The secret to living a fit life is finding workouts you love and building in variety to meet your needs.  You might want to combine yoga and cross-training or barre and cycling.  At Proof Fitness you don't have to compromise quality for value. You get it all. For more details about Proof Fitness, check out our website at prooffittransf.wpengine.com