Get your FREE VIP pass today!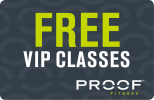 We're more than a gym! Proof Fitness is a premier, health and fitness club. In addition to the edgy reclaimed wood, historic brick and beautifully designed open gym, we're changing the conversation about living a healthier life.  It's not just about burning calories, punishing yourself, and doing workouts that fit the mold.  At Proof Fitness, it's about breaking the mold.  To break the mold, you must do something different.  And Proof Fitness is doing something different as a state-of-the-art, all-inclusive health and fitness club.
New And Most Innovative Equipment Available On The Market
Heart Rate Monitoring & Performance Tracking
Tailored Fitness Program Designed To Your Specific Needs
Nationally Recognized Studio Classes
Proof Proprietary Classes developed in house (CRUSH, AMP'D, TKO, ROW & TONE, to name a few)
100% Certified Personal Trainers
100% Certified Studio Instructors
Free Weights plus Olympic Style Bumper Plates
Indoor Run, Walk and Sled Track
Outdoor Training Area
Hi-Tech Cardio
Integrated Spa & Massage Therapy
Injectables & Waxing
Steam and Sauna
Modern, Upscale Locker Rooms
Kids Playroom
Free Parking
PHYSICAL THERAPY
Physical therapy plays an important role in managing your orthopedic condition.  It is important to identify the cause of your injury and then learn how to get back to your daily routine.  For more information, call 859-303-4312.
SPA
We take your skin seriously.  This is why only the most qualified medical professionals are on staff to deliver your treatments.  Our spa staff is extensively trained in all the procedures to ensure high quality results every time.  For more information, call 859-286-2300.
Main treatments:
Botox
Dysport
CoolSculpting
Facials
Injectables
Laser Hair Removal
Hydration Therapy
Massage Therapy
Deep Tissue Massage
Hot Stone Therapy
HCG Weight Loss
GET YOUR FREE
VIP PASS TODAY!