Fitness Centers Lexington KY
Get your FREE VIP pass today!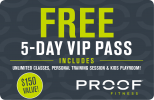 Both locations of Proof Fitness are world-class fitness centers, offering the largest selection of on-trend workout programs and classes, constantly innovated to suit changing lifestyles.  If you've ever grown bored of your exercise routine, you've probably found yourself looking for options to keep it fresh.  The secret to living a fit life is finding workouts you love and building in variety to meet your needs.  You might want to combine yoga and cross-training or barre and cycling.  You might want expert-level, high-interval training or a once a week free weights session.  You could spend hundreds every month to incorporate a variety of fitness options, but you don't have to at Proof Fitness.
At Proof Fitness you don't have to compromise quality for value. We believe in the value of premium fitness centers with modernized versions of all the classic equipment like treadmills, free weights, heavy bags and more.  Our staff is like family, trained to provide an exceptional experience for every one of our members.
When searching the internet for a gym near you in Lexington, Kentucky, you need to make sure that you are choosing a fitness center that best suits all of your needs.  At Proof Fitness, you'll find weight loss programs, personal training and much more to give you the advantages you need to reach your desired level of fitness.  Because we offer personal training at both of our Lexington locations, you can rest assured you will be able to set and meet personalized fitness goals to achieve the results you want.
Whether you choose group training classes or personalized one-on-one fitness sessions are more your style, you'll be able to work toward an end goal that produces the body you can be happy with.  Our experienced staffs at both Lexington Proof Fitness locations are ready to help you with all aspects, from setting your goals to choosing the right exercises you need to be successful.
When choosing the right fitness center, surround yourself in a positive environment with professional trainers and staff, like those at Proof Fitness, all dedicated to helping you reach your fitness goals.  At Proof Fitness, there's always more than one way to get the body and health you've always wanted.  We provide an extensive variety of fitness programs that challenge everyone from the novice to the expert.
Our belief at Proof Fitness is simple: health and happiness go hand in hand.  When you feel good, you look good.  When you look good, you feel good. Together, we can make your goals a reality.  At Proof Fitness, we're here to help you make it work every step of the way.
At Proof Fitness, we strive to provide our members with the most challenging and effective fitness classes.  We're here to help our members get fit, stay social and have fun, offering many different classes:
Barre
Boxing
HIIT
Indoor cycling
Pilates
Spinning
Yoga
Proof Fitness provides more fitness value, classes and amenities than traditional studios for one investment.
Through a short survey, conversation and a movement assessment, our Proof Fitness team will prescribe the perfect program to get you started and on track to meet your fitness goals.  Our members achieve amazing results by incorporating group training and/or personal training into their fitness routine.  They see changes in motivation, the way they focus on goals and the sense of accomplishment they feel after a workout.
Proof Fitness offers great programs at both of our fitness centers in Lexington:
230 West Main Street | 7th Floor
4101 Tates Creek Centre Drive | Suite 164
For more details about Proof Fitness, check out our website at prooffittransf.wpengine.com