Fitness Gyms in Lexington KY
Get your FREE VIP pass today!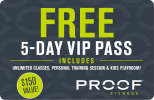 When looking for fitness gyms in Lexington, Kentucky, look no further than Proof Fitness, with two convenient Lexington locations, downtown and in the Tates Creek Centre.   Proof Fitness believes your gym experience should not be mundane and boring.  It should be something that you look forward to and results driven.  Exercising is the best activity you can do for yourself.  As Proof Fitness begins to help you shape this habit, you will do it more frequently and consistently.  Our private studios are designed for intense metabolic activity and strategically fun enough for you to have a rewarding experience each time.  Our professional training staff has been trained to understand the needs of each client and what works best for them.
Getting and keeping a tone body requires more than just showing up to the gym.  Proof Fitness has a proven fitness formula to help you succeed.  There's no need to worry about waiting for equipment or sweaty machines left unsanitized at the Proof Fitness gyms in Lexington, Kentucky.  We take more of an all-inclusive approach to your health and wellness at Proof Fitness.  We help you create lifestyle changes with nutrition and fitness.
Whether you're ready to train for your first mini-marathon, 5K, sprint triathlon or need a fitness program to get you on the right track, our fitness programs at Proof Fitness will help you be successful in whatever goal you have set.  We will help you meet your goals.  If you're wanting to perform better or to lose weight, we offer testing and screening options which can provide you with valuable information about your body and help identify barriers that can impede your progress.
Proof Fitness offers a large selection of cardiovascular machines, group fitness classes, specialized classes, strength training equipment and personal training programs:
Cardiovascular machines
Group fitness classes
CrossFit® classes
Hi-Tech cardio
Specialized classes
Strength training
Functional training
Free weights
Personal training
Sports performing training
Small group training
Locker rooms
Our trained staffs at both Proof Fitness gyms in Lexington, KY are equipped to help, train and educate you whether you are a first time gym user or a seasoned veteran.  Proof Fitness has all the amenities you will need to obtain your goals, be it to lose weight, gain muscle or simply maintain your present physical condition.  As a member, there's more to Proof Fitness than just our fitness and weight facilities.  We also offer a variety of other services to suit your needs:
Free weights
Power lifting area
Indoor run, walk and sled track
Modern, upscale locker rooms
Personal trainers
Childcare
Proof Fitness offers a wide variety of programs that emphasize total conditioning, cardiovascular fitness, muscular strength, endurance and flexibility.  Our classes include aerobics, boxing, HIIT, indoor cycling, Pilates, spinning, yoga and more.
At Proof Fitness, we believe we have the best fitness gyms in Lexington, Kentucky with the most attentive and knowledgeable staff, the most cutting edge personal training methods and clean and comfortable physical facilities.  You won't find more qualified or more highly trained fitness training teams anywhere. We offer many things that none of the other fitness gyms in the area offer. Come in to either Proof Fitness location, meet with one of our fitness coaches and see for yourself why either of our two fitness gyms is the right place for you.
Proof Fitness has two convenient fitness gyms in Lexington, Kentucky:
230 West Main Street | 7th Floor
4101 Tates Creek Centre Drive | Suite 164
For more details about Proof Fitness, check out our website at prooffittransf.wpengine.com