Get your FREE VIP pass today!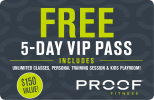 When looking for a fitness trainer in Lexington, Kentucky, look no further than Proof Fitness, with two convenient Lexington locations, downtown and in the Tates Creek Centre.  At Proof Fitness, our objective is to get your body the results that you want.  Empowered with the most current knowledge of chain reaction biomechanics and with the most effective training strategies and techniques, our trainers offer a fitness training experience that's second to none.  When you have fun when training, it trains the body to have a new attitude towards exercise, one that will endure a lifetime.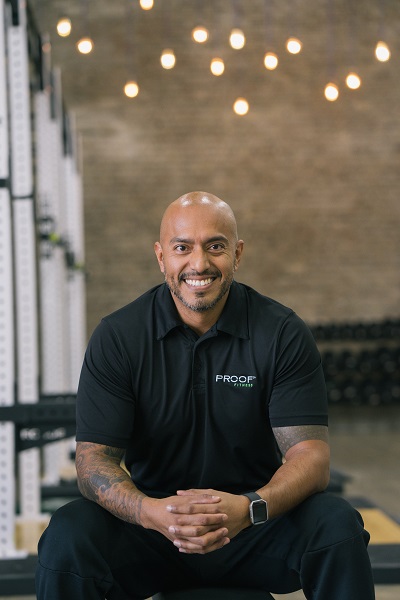 Looking to shed pounds, tone muscles or are you a seasoned athlete?  Proof Fitness is the place to help you achieve the body you desire.  At Proof Fitness, we welcome people of any fitness level to get their best total-body workout in just 60 minutes.  Backed by proven science, our fitness instruction is designed to keep heart rates safe, while maximizing calorie burn both during and after each workout.
Our team of professional fitness trainers at Proof Fitness creates customized strength and functional training programs that push members to their limit to build a better body and help boost confidence and positivity inside the gym and beyond.  Proof Fitness is constantly evolving to keep things fresh and new in order to provide the ultimate workout experience.  It's our personal mission at Proof Fitness to help our members improve their overall health and happiness.  Our fitness trainers care about each member's personal fitness goals and want to see them succeed.  Whether your goal is fitness-based and you want to increase your endurance, to build your power or strength, or if you have a weight loss-based goal and would like to lose weight and tone up, Proof Fitness is the perfect place in which to achieve your goals.  We have a variety of different membership plans that don't require a contract.
At Proof Fitness, we strive to provide our members with the most challenging and effective fitness.  We're here to help our members get fit, stay social and have fun, offering many different classes:
Barre
Boxing
CrossFit®
HIIT
Indoor cycling
Pilates
Spinning
Yoga
Proof Fitness provides more fitness value, classes and amenities than traditional studios for one investment.
Getting and keeping a tone body requires more than just showing up to the gym.  Proof Fitness has a proven fitness formula to help you succeed.  There's no need to worry about waiting for equipment or sweaty machines left unsanitized at Proof Fitness. We help you create lifestyle changes with nutrition and fitness. We take more of an all-inclusive approach to your health and wellness.
If you want to increase your strength and flexibility and improve how you feel, our fitness trainers are here at Proof Fitness to help you achieve your goals.  Our certified trainers are knowledgeable, caring people and they tend to each member's needs and requests in a way that inspires trust and confidence.
Encounter a total fitness experience at Proof Fitness:
230 West Main Street | 7th Floor
4101 Tates Creek Centre Drive | Suite 164
Proof Fitness believes your gym experience should not be mundane and boring.  It should be something that you look forward to and results driven.  Exercising is the best activity you can do for yourself.  As Proof Fitness begins to help you shape this habit, you will do it more frequently and consistently.
The best fitness trainers in Lexington are at Proof Fitness.  For more details about Proof Fitness, check out our website at prooffittransf.wpengine.com