Get your FREE VIP pass today!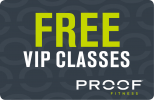 Proof Fitness Centers in Lexington, Kentucky boast everything that you need from a gym.  With two convenient Lexington locations, Proof Fitness provides members with the best equipment, highly qualified personal trainers, classes and amenities, such as private locker rooms with showers and onsite childcare, to ensure the best fitness experience ever. Proof Fitness also provides fully-fitted cardio decks, group fitness rooms, personal training/performance rooms and free weight sections.
Proof Fitness staff members are attentive, certified and experienced instructors who are dedicated to helping members achieve their fitness goals at every level.  In addition to a selection of cardio and weight machines, Proof Fitness also offers popular group fitness programs.  Members have access to the area's finest fitness instructors with a variety of specialties.  All Proof Fitness trainers are highly experienced experts who are dedicated to supporting gym class members as they work toward their individual goals.
What makes Proof Fitness different from other gyms is that we have truly personalized the group training concept.  Everyone's body type and skill level are different.  So, we do not take a one size fits all approach to our members' workout programs.  Every member is given a blueprint designed specifically on their limitations and abilities.  Testing methods are used to gauge improvement in muscle balance, body awareness and strength. Members receive personal interaction with the trainers in every workout for the entire workout.  It's like getting personal training, but in a small group setting and at a group price.
Are you tired of the same old boring gym routine?  Kick it into high gear with Proof Fitness.  Gym classes at Proof Fitness provide members with solid physical exercise on a consistent basis.  Our gym classes feature activities that raise the heart rate, increase the pulse rate and rev up metabolism.  Gym classes can also help teach members skills that can help them be active their whole adult lives.  Solid, physical exertion also helps the mind. Both of our Lexington locations are equipped with everything you need to help you lift, squat, cycle and sweat your way to great fitness.  With low membership rates, you are sure to find a plan that suits your budget at Proof Fitness.  You'll have access to state-of-the-art equipment, high energy group fitness classes, expert personal trainers, childcare and much more.  At Proof Fitness, get ready to be a part of the most exciting fitness experience in the area.
If you haven't experienced the thrill of successfully making it through a group gym class, it's about time you did.  Here are 10 reasons why group exercise deserves to be part of your fitness program:
Gym exercise classes are motivational.
Gym exercise classes are challenging.
Gym exercise classes provide variety.
Gym exercise classes provide structure.
Gym exercise classes check on your form.
Gym exercise classes will make you more fit.
Gym exercise classes are fun.
Gym exercise classes help you manage your time.
Gym exercise classes offer a cost effective way to benefit from the expertise of a certified trainer.
Gym exercise classes are social.
Is your solo walking or cycling routine getting a little humdrum?  If so, it's time to try a gym class at Proof Fitness.  Working out with other people in a class led by a trained instructor will help you stick to an ongoing exercise routine, which is a vital part of keeping your heart healthy.  The more fit you are, the longer you live.  If you're new to exercise, select a class for beginners at Proof Fitness. Classes that are geared for beginners and older people move at a slower pace.  More intense cardio classes may be too challenging for everyone but the most dedicated fitness enthusiasts.  Here are some popular options for beginners:
Indoor Cycling
Spinning
Stretching and strengthening workouts
Pilates
Yoga
Having a gym class and a personal trainer at Proof Fitness to guide you through your fitness routine will help make sure you are spending time on the proper types of exercise:
Proper fat loss and muscle gain
Reduced chance of injury
A lifetime exercise habit
Overcoming plateaus
Proof Fitness has two convenient fitness gyms in Lexington, Kentucky:
230 West Main Street | 7th Floor
4101 Tates Creek Centre Drive | Suite 164
Your workout should always be the high point of your day.  With gym classes at Proof Fitness, it will be.  For more details about Proof Fitness, check out our website at prooffittransf.wpengine.com