Get your FREE VIP pass today!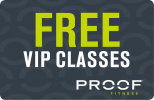 When it comes to Pilates in Lexington, Kentucky, whether you're an expert or just want to learn what Pilates is all about, Proof Fitness will tailor a routine to fit your needs.  Pilates is a healthy workout routine that builds flexibility, strengthens muscles and increases endurance.  Pilates places emphasis on spinal and pelvic alignment breathing and develops a strong core while improving coordination and balance. At Proof Fitness, we believe that a good workout starts with a good plan.  Our excellent, certified instructors will give you a stellar experience, one that leaves you feeling healthy, energized and fit.
With our Pilates classes at Proof Fitness:
You will be empowered to discover your inner strength.
You will transform your mind and body.
You will increase your stamina.
You will improve your health.
You will achieve a new and exciting physical well-being.
Pilates at Proof Fitness is energizing and adaptive for women and men of all ages and fitness levels.  After each session, you will see an improvement in your posture, muscle tone and coordination.
Created by Joseph Pilates and developed during the early 1900's, Pilates has become an increasingly popular form of total body conditioning.  Nearly a century later, Pilates has evolved in many ways, but the six principles remain:
Centering
Breathing
Precision
Control
Concentration
Flow
Pilates emphasizes core engagement, proper posture and strengthening the body as a whole.  Exercises recruit smaller, often neglected muscles during movements ensuring no individual muscle group is overworked, helping prevent injury and bulkiness. Pilates aims to correct imbalances from poor body mechanics by strengthening the muscles symmetrically.
Our Pilates at Proof Fitness is:
The highest quality Pilates | We hold ourselves to the highest standards to deliver the best Pilates for maximum results.
Full equipment studio | You will experience Pilates as Joseph Pilates intended, utilizing all of the authentic equipment in each session.
Our Pilates at Proof Fitness is not:
A weight loss regime | While Pilates can be a great complement to a weight loss regime, it should be viewed as only one piece of the puzzle.
A replacement for physical therapy | Pilates is a great complement to physical therapy because of its emphasis on alignment and its systematic approach to promoting flexibility.
Pilates is for everyone, from young to old, sedentary to athletic.  Pilates is for people who are strong or weak, flexible or inflexible.  Pilates can be used as a complete fitness program as well as a supplement to other methods of fitness.  It is a tool to educate the body to have better posture and to move in a more effective way.  Proof Fitness recommends that your first Pilates session be a private lesson.  This will introduce you to the Pilates equipment, give you and the instructor an idea of where your body's strengths and weaknesses lie and provide the attention needed to formulate your specific goals.  After your private session, you will be more comfortable with the principles and philosophy of Pilates and you and your instructor will decide how you will proceed from there.
When looking for Pilates in Lexington, Kentucky, Proof Fitness has two, spacious, fully equipped fitness centers.  Proof Fitness is dedicated to providing a peaceful, friendly environment where individuals can be encouraged and optimal results can be obtained.  Visit either of our convenient locations and get started on the Pilates program just right for you:
230 West Main Street | 7th Floor
4101 Tates Creek Centre Drive | Suite 164
For more details about Proof Fitness, check out our website at prooffittransf.wpengine.com