Get your FREE VIP pass today!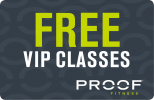 If you're 65+ and are looking for a senior fitness center, both locations of Proof Fitness are part of the SilverSneakers™ network.  Unlike some senior gym memberships, SilverSneakers™ gives you access to all of their participating locations, nationwide.  Our Proof Fitness gyms and amenities are all yours: weight machines, treadmills, pools, saunas, courts and classes.
SilverSneakers™ at Proof Fitness is a program encouraging older adults to participate in physical activities that will help them to maintain greater control of their health.  It offers activities designed to keep seniors healthy. Both Proof Fitness locations are staffed with advisors who will introduce you to the program and help you get started.  We have something for everyone at all levels of ability.
SilverSneakers™ partners with health plans to provide free gym membership for seniors at fitness centers across the country like Proof Fitness, with two convenient locations, in downtown Lexington and in the Tate Creek Centre.  Our fitness program for adults 65+ comes free with qualifying Medicare health plans, giving you unlimited access to our facilities.
Aetna Medicare
Anthem Blue Cross & Blue Shield | Anthem Medicare Preferred Standard (PPO)
Anthem Blue Cross & Blue Shield | Anthem Senior Advantage Value (HMO)
Anthem Blue Cross & Blue Shield | Blue Medicare Access value (regional PPO)
Gateway Health Medicare Assured
Healthways
Humana | Medicare Advantage and Medicare Supplement
Insurance 365
United Healthcare®
AARP Medicare Complete | Plan 1
AARP Medicare Complete | Plan 2
AARP Medicare Complete | Plan 3
AARP Medicare Complete | Plan 6
Seniors rave about the SilverSneakers™ fitness program at Proof Fitness.  As people age, physical activity becomes more important than ever.  Older adults can obtain significant health benefits with a moderate amount of physical activity.  As seniors get older, they tend to notice a decrease in daily energy levels.  Staying active through group classes like SilverSneakers™ Classic helps improve health in many ways including increasing strength, reducing the risk of disease and boosting overall mood.  Proof Fitness highly recommends this fitness class and believes seniors will thoroughly enjoy the benefits.  The SilverSneakers™ Classic fitness class incorporates hand-held weights, elastic bands and medicine balls to reach all parts of the body with a number of different techniques.  Proof Fitness also provides chairs for seated or standing support.  Regardless of ability, seniors will notice improved performance of their entire body the more that they attend SilverSneakers™. Seniors will stay in the game by attending our SilverSneakers™ classic course.
Some of the benefits of physical activity for seniors include:
Decreased risk of falling
Improved stamina and muscle strength
A sense of well-being
Prevention of depression and anxiety
Reduced pain and joint swelling associated with arthritis
Reduced blood pressure in cases of hypertension
Improved heart health and decreased odds of coronary heart disease, high blood pressure and diabetes
SilverSneakers™ memberships at Proof Fitness include:
State-of-the-art equipment
Towel service
Full-featured locker rooms with free locker access
Group fitness classes
Weight training equipment
Cardio studios with personal viewing screens
Personalized training options
Wet stream and/or dry sauna
Indoor running tracks
And much more
SilverSneakers™ is a fun, energizing program that helps older adults take greater control of their health by encouraging physical activity and offering social events.  Unlock the door to greater independence and a healthier life with SilverSneakers™ at Proof Fitness:
230 West Main Street | 7th Floor
4101 Tates Creek Centre Drive | Suite 164
For more details about Proof Fitness, check out our website at prooffittransf.wpengine.com