Get your FREE VIP pass today!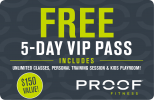 Proof Fitness has the two best weightlifting gyms in Lexington, Kentucky, conveniently located in downtown Lexington and in the Tates Creek Centre.  Weightlifting, also known as Olympic Lifting, is a discipline in which athletes attempt maximum lifts of a loaded barbell in two competition lifts: the Snatch and the Clean & Jerk.  Weightlifting's movements and training techniques have long been used by elite athletes, particularly team sport and track & field athletes, due to the inherent combination of strength training, coordination and dynamic movement.  Weightlifting can be an amazing tool for general physical fitness.
Weightlifting neatly packages and develops muscle recruitment, balance, coordination, mobility, strength, power and speed.  Weightlifting classes at Proof Fitness can be challenging to master, but your learning experience will be safe and effective with knowledgeable coaching from our certified instructors.
The weightlifting teams at Proof Fitness give you the most platform time possible.  After conquering the basics of Snatch and Clean & Jerk, you will spend time refining these movements, then supplementing them with strength or mobility/stability exercises.  Each weightlifting class is coached by your well qualified Proof Fitness coach.  At Proof Fitness, our equipment, facilities, programming and coaching are designed to provide the optimal environment for weightlifting training.
Weight training is a common type of strength training for developing the strength and size of skeletal muscles.  It utilizes the force of gravity in the form of weighted bars, dumbbells or weight stacks in order to oppose the force generated by muscle through concentric contraction.  Weight training uses a variety of specialized equipment to target specific muscle groups and types of movement.  Benefits of weight training include:
Increases physical work capacity
Improves bone density
Promotes fat-free body mass
Increases the strength of connective tissues, muscles and tendons
Improves quality of life
Benefits of weightlifting at Proof Fitness are:
Rev up your metabolism
Build muscle
Increase flexibility
Improve cardio strength
Reduce depression symptoms
Fight Osteoporosis
Get stronger bones
Lower diabetes risk
Improve heart health
Cut down cancer risk
Gain blood sugar control
Prevent back pain
Improve posture and balance
Reduce bulkiness
Get mentally stronger
Beat boredom
Boost self-esteem
Look and feel better
Three great reasons why everyone should lift weights:
Pushing yourself physically reveals what you're made of mentally.
Weightlifting solidifies your sense of self-worth.
Strength gives you more opportunities to contribute to life.
Five reasons to join Proof Fitness:
Programming that works
Trainers who care
A focus on fundamentals
Results
Encouraging atmosphere
Our knowledgeable and friendly certified instructors at Proof Fitness have experience in virtually all aspects of human performance, health and fitness.  Whether you're looking to increase your athletic potential, improve your body composition or simply live a stronger, healthier life, Proof Fitness can provide the solution to help you achieve your goal.  Visit either of our two locations and get started on the weightlifting gym program that's just right for you.
230 West Main Street | 7th Floor
4101 Tates Creek Centre Drive | Suite 164
For more details about Proof Fitness, check out our website at  www.prooffitness.com