Yoga Classes Lexington KY
Get your FREE VIP pass today!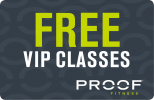 When looking for yoga classes in Lexington, Kentucky, look no further than Proof Fitness, with two convenient locations, in downtown Lexington and in the Tates Creek Centre.  Yoga is quickly becoming one of the most popular workout regimes among people who are looking to gain flexibility, strength and even lose weight. Yoga is great for reducing stress and allowing for greater relaxation.  Once you get into Yoga, you learn that it is so much more than just a way to workout and keep in shape.
People use various aspects of Yoga to help raise their quality of life in such diverse areas as fitness, stress relief, wellness, vitality, mental clarity, healing, peace of mind and spiritual growth.  Yoga is a system of techniques and guidance for enriched living.  Since the individual experience of yoga is quite personal and may differ for each practitioner, there are a variety of approaches to its practice.  In recent years, Yoga has branched out in many new directions.  However, all approaches to Yoga are intended to promote some aspects of wellbeing.
Proof Fitness offers the widest variety and the most diverse classes around with numerous classes weekly.  We serve people of all body sizes, backgrounds and experience levels. Proof Fitness also provides teacher training programs.  If you want to de-stress, build confidence and strength, if you want to be part of a community where you fit in for exactly who you are, you'll be in the right place at either Proof Fitness Lexington location.
At Proof Fitness, we strive to offer Yoga classes to suit every need.  Proof Fitness offers an array of Yoga classes for every age, flexibility and experience level.  Whether you're a beginner looking to develop a practice or a long-time Yoga student looking to expand your horizons, Proof Fitness offers something for everyone:
Barre – toning and sculpting all muscles.
Better backs – classes focus on healthier spines.
Gentle Yoga – slow paced classes that release physical and mental tension.
Level one – classes for both new and continuing students.
Level two – must have 12 classes of experience.
Prenatal – classes best suited for women 12 weeks and upward.
Private sessions – for people who need extra guidance due to health issues.
Seniors – traditional Yoga for anyone with aches and pains.
Yoga classes at Proof Fitness in Lexington, Kentucky are for everybody.  Your age, your size, your gender or your level of activity doesn't matter.  You will appreciate the distinct and demonstrable health benefits that Yoga provides.  With a consistent practice you will notice physical changes to your body shape.  You will become more flexible. You will be less prone to injury.  You will also build muscle tone.
Breathing, community, compassion, flexibility, gratitude, mindfulness, relationships and weight loss are all part of Yoga.  These benefits translate to practical benefits such as decreasing your stress levels, improving your relationships and increasing your productivity.  Yoga is different from other forms of exercise.  Yoga does use physical practices including postures and breathing techniques to strengthen and heal the body.  However, the actions of Yoga go further and are intended to enrich the mind and spirit, bringing balance and peace to the people who practice diligently.
When it comes to Yoga classes in Lexington, Kentucky, Proof Fitness can help:
If you're looking to strengthen and tone your body.
If you're looking for a way to reduce aches and pains.
If you're most interested in managing stress and calming your mind.
Physical benefits of Yoga at Proof Fitness include:
Increased flexibility
Increased strength
Increased balance
Increased stamina
Improved body alignment – reduces joint pain
The mental benefits of Yoga are:
Stress reduction
Body awareness
Better sleep
Improve self-confidence
Relaxation
Depending on your needs and goals, Proof Fitness can help you awaken, further develop or replenish your mind, body and soul.  Our goal at Proof Fitness is to provide Yoga students of all levels an opportunity to strengthen the body while quieting the mind.  Whether you are young or old, experienced or a total beginner, we have a Yoga class for you at Proof Fitness.
230 West Main Street | 7th Floor
4101 Tates Creek Centre Drive | Suite 164
For more details about Proof Fitness, check out our website at prooffittransf.wpengine.com